---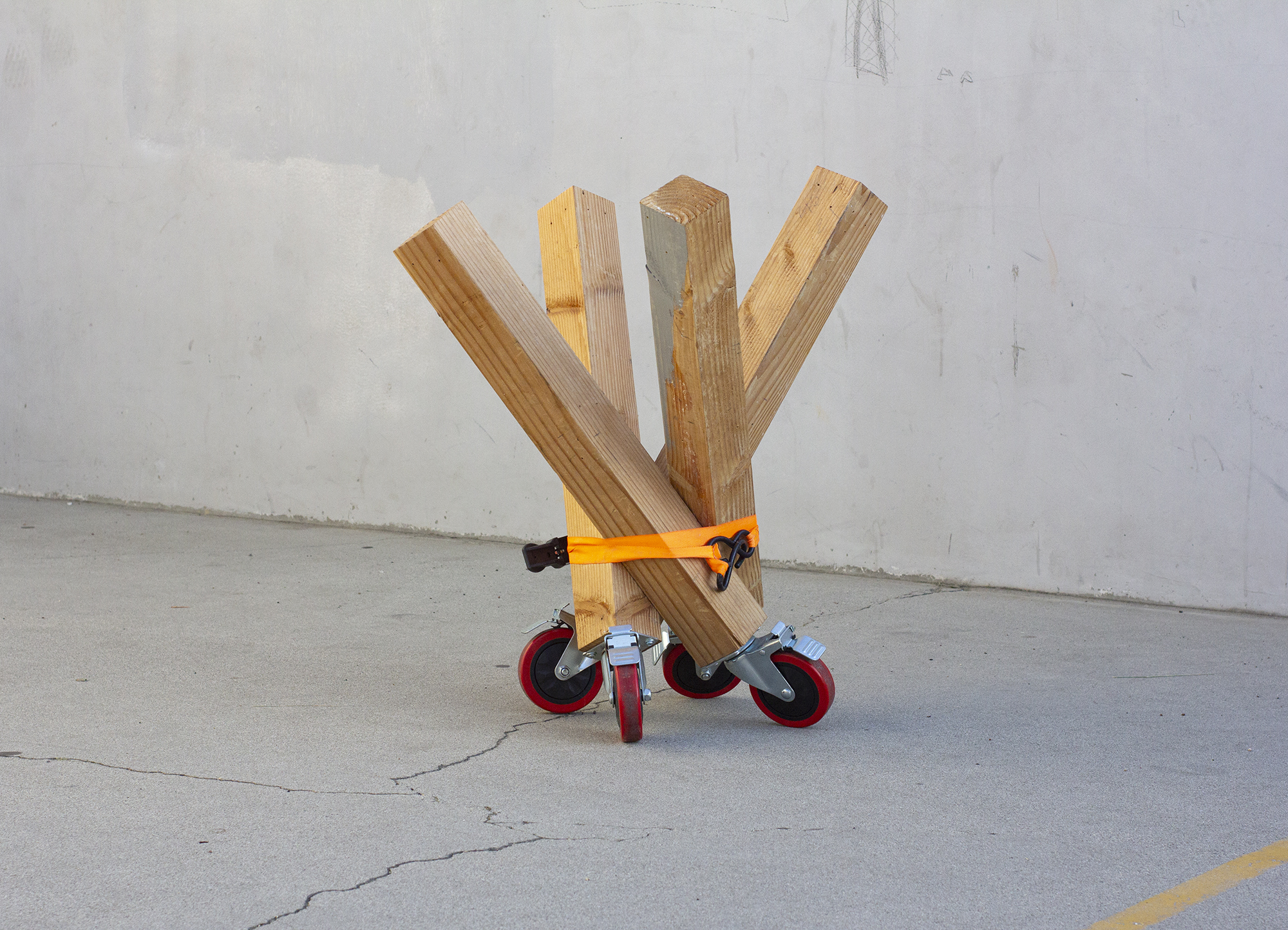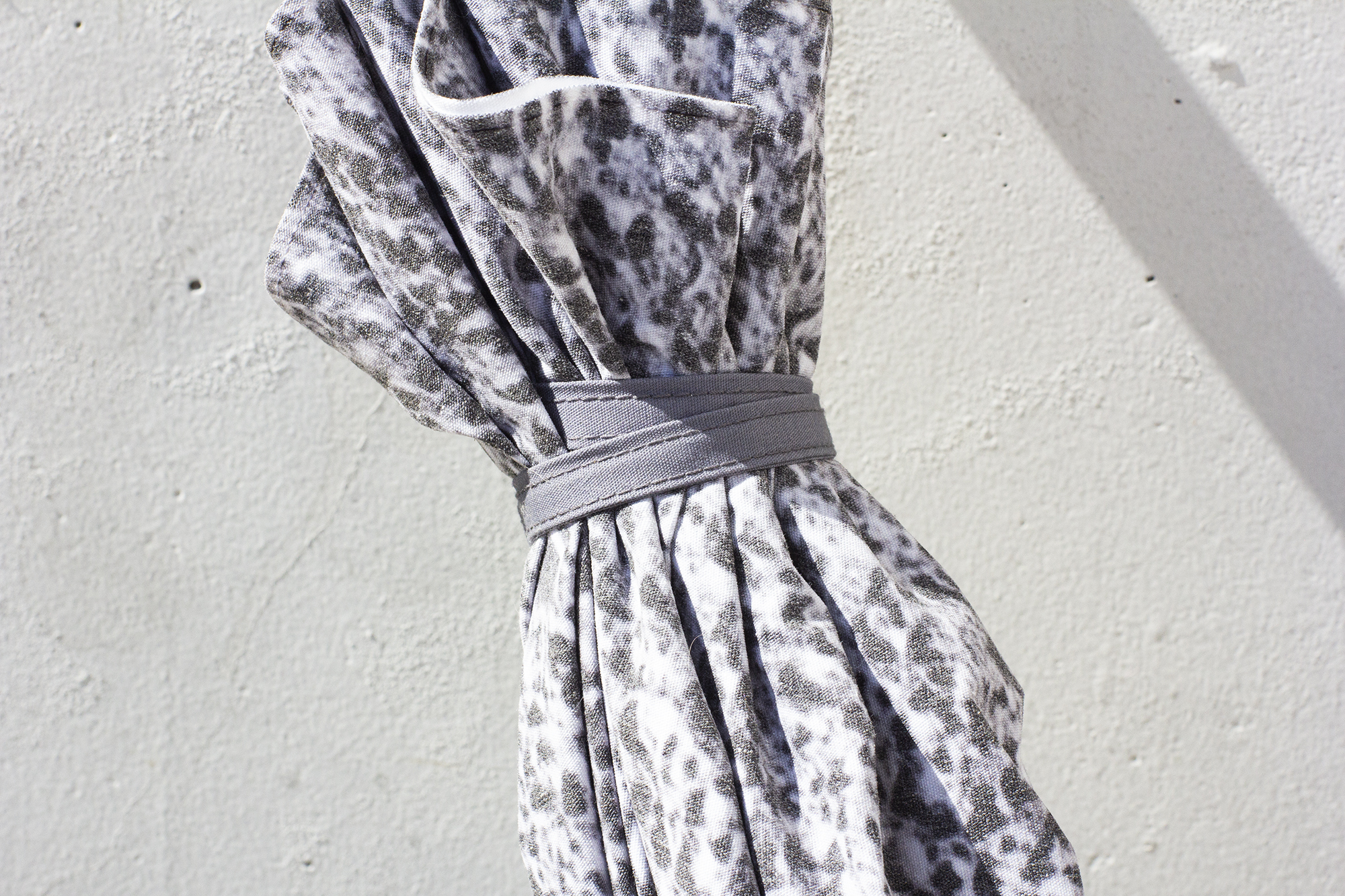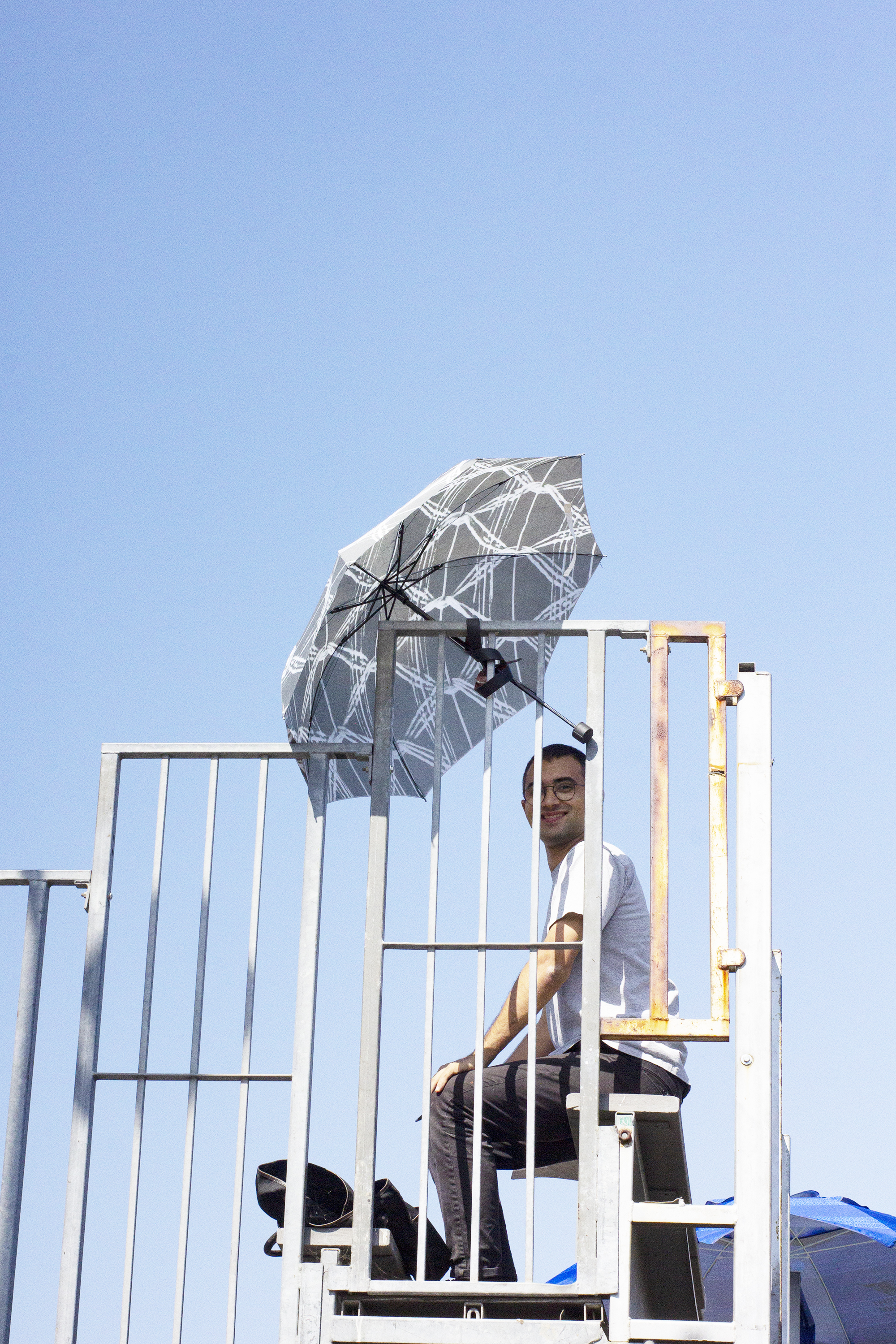 For My Love
2019
For My Love, comprises a new body of sculptures from Marco Kane Braunschweiler. These works use concrete, steel, wood, rubber, wax, and guava leaves, to depict shared experiences of love.
The materials are autobiographical and allegorical. A frond from a palm tree becomes braided hair. Four pieces of timber strapped together become a tense family dinner between people that hate each other. A rock with a bolt through it becomes two lovers holding each other indefinitely.
The sculptures are improvisational. They trace personal bonds, detailing the questions, joy and pain that arise when people relate.
---

Three Reflections

2018

dimensions variable

single-channel video installation, color with stereo sound, 2:46 min.

---
Adore (quería saber quién era yo)

2018

144" x 12" x 12"

concrete, plexiglas, paint, hardware, steel wire

---
The Question of U

2018

32" x 28" x 24"

steel, steel chain, s-hooks

---
Marco Kane Braunschweiler and Jheanelle Brown

Light Rain

2018

dimensions variable

HD video
---
Untitled (Beach 2)


2018


10" x 8"


Photocopy on silver gelatin paper
---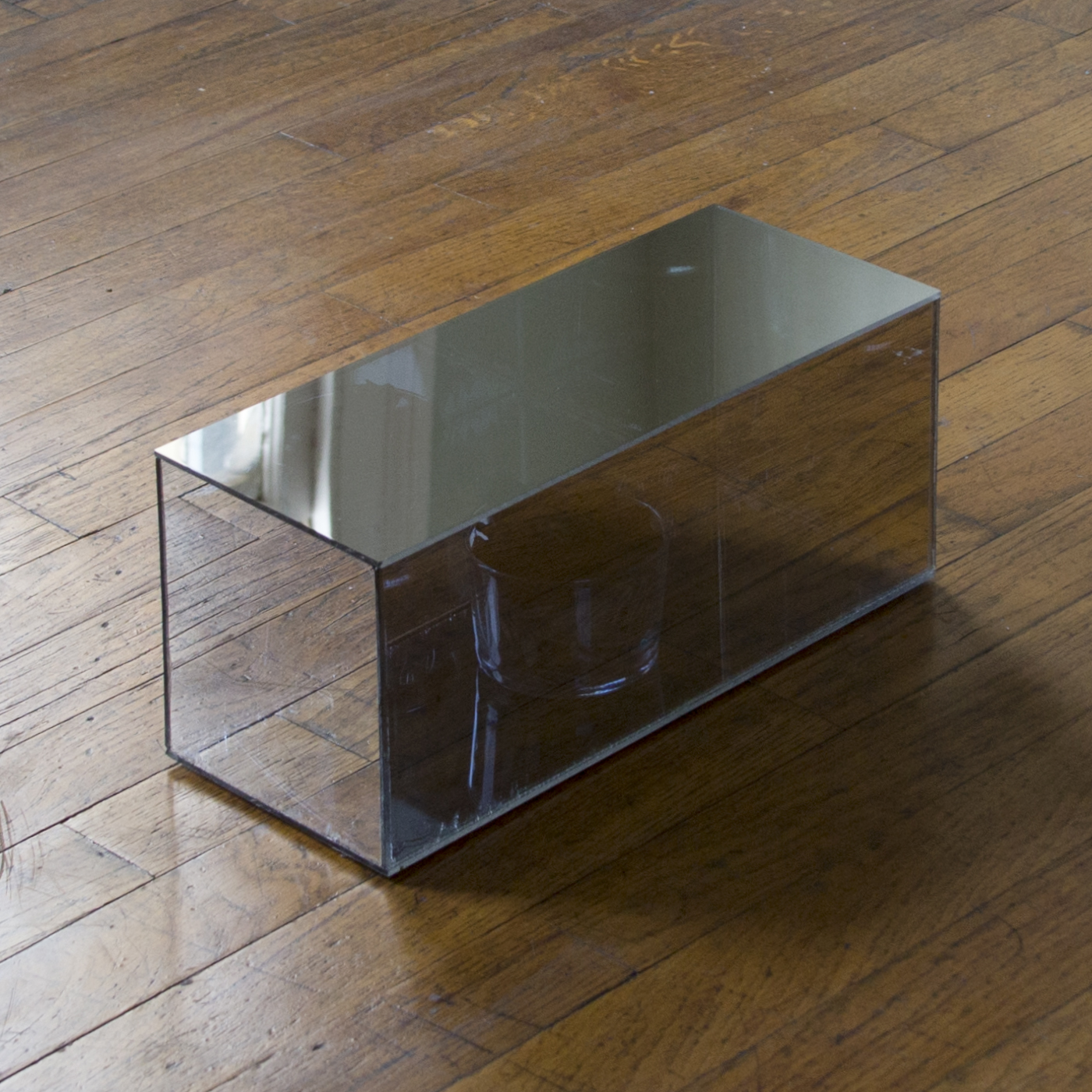 the darker it is the better you see

2018

12" x 12" x 8"

two-way mirrored plexiglas, dried common camellia, wine glass, sunflower seeds, 12 pennies


* exhibition *

Permanent Exhibition Organized by David Horvitz at Galerie Morille





---
A New Horizon, Slowly, Coming Into View /
To the Late Risers That Still Get the Worm /
Sunset in Reverse

2018

4k video


Thanks to Lindsay August-Salazar.
---
MONKEY

2017

dimensions variables

hd video


MONKEY is a docufantasy, told through shadows, about two people growing close, and two people falling apart. You could say it's an epic, a buddy movie, a family drama, or, indubitably, a downright freakfest. It takes place in Los Angeles on Christmas day, and the narrative is from the pages of Ulysses. The project at Human Resources was an exhibition of the first act of this winding, Homeric tale which chronicles the long, tender journey from loneliness to solitude.

MONKEY includes Jheanelle Brown, Nicholas Zhu, Jonny Garciamons, Femi Adeyemi and Brandon Bloom. Influences and quotations include Junot Diaz, Moodymann, Paolo Maganoli, Fran Ross, Susan Sontag, Ibn al-Haytham, Dj Funk, Colin Self, Robin James, Jace Clayton, Arthur Jafa, bell hooks, and others. Camera 2 is Nicholas Zhu. Moodymann handles the leitmotif, and Kelman Duran tracks feature prominently.
* exhibition *

MONKEY ACT ONE

Human Resources

September 20-24
, 2017

---
A test screening of the first act of Monkey at The Barn, run by Julie Niemi and Lola Kramer in upstate New York. The evening was a conversation on the video guided by a reader with excerpts from Claudia Rankine, John Biln, Fran Ross, Paolo Magagnoli, Junot Díaz, Arthur Jafa, Ann Lauterbach, T. J. Demos and John Harwood.
* screening *

MONKEY Test Screening

The Barn

August, 2018


---
2017

2017

38pp

Edition of 100

Images on forgetting. Documentation of a series of silver gelatin photocopies.
---
I'm a reader not a philosopher

Martine Syms and Marco Kane Braunschweiler

2016

dimensions variable

UV curable print on Plexiglas with aluminum frame and screws


Martine Syms and Marco Kane Braunschweiler see the amphitheater at the southern end of the Seattle Waterfront Park as a stage set for a tableau inspired by the famous, and probably apocryphal, Treaty of Point Elliott speech attributed to Chief Si'ahl. A photograph of Syms's father, a survey engineer, takes the role of speaker, framed by landscape photographs taken during the artist's travels along the West Coast of North America.
–Curator, Eric Fredericksen
---
One Wilshire to Ocean Avenue

2015

HD video

dimensions variable

It's a trip down Wilshire from the origin point (One Wilshire at 624 S. Grand) to the Ocean at sunset. Soundtrack from Jamma D.
---
One Wilshire, Los Angeles 1

2015

HD video

dimensions variable

A missive to the physical internet I never knew existed.

Additional archival footage courtesy of The Center for Land Use Interpretation. Audio includes PHORK's "Looking For Raveland". Special thanks to Steve Kado, Martine Syms, Alex Tyson, Karly Wildenhaus and Worldstar.
---
James Baldwin #6

2014

72" x 24" x 1"

UV curable print on Plexiglas, gridwall panel, zip ties


---
James Baldwin #1-#5

2014

dimensions variable

hd video

I want to add to the discourse of work around Baldwin and this is a poetic response to his oeuvre. Listening to Baldwin talking I felt he was speaking to me, imploring me to think, to change. As my contribution, I'm stripping away the image to underscore the natural effect the photograph has to condense and flatten time and show just how little has changed in 50 years.
---
Timelapse 12

2014

HD video

dimensions variable



---
Timelapse 10

2014

HD video

dimensions variable

---
Timelapse 9

2014

HD video

dimensions variable
---
I want to be an honest man and a good writer. takes the starting point of the Lilium Oriental Stargazer, developed in Southern California in the 1970s. This selection of photographs and timelapse films of Lilies opening and dying deal with the hybridization of media (and mediums) and the commercialization, packaging and sale of everyday rituals. Initially focused on aesthetic reduction this body of work moved, with time, toward a more nuanced study of creative labor–its commodification and exploitation.

The works on monitors use timelapse photography to speed up the slow stretching and growing lilies make over days into a few short minutes. This intimate experience placidly shows these flowers as dynamic, growing objects. The second set of works is a series of photographs taken from overhead of lilies in the newspapers they were wrapped in, with other ephemera from the studio. The 3 photographs are printed directly onto Plexiglas and attached to the wall using commercial sign brackets. This presentation allows the ink to float on the surface of the Plexiglas and over time eventually fade like the newsprint the flowers are wrapped in.

* exhibition *

I want to be an honest man and a good writer.

Document

2014




---
marathon

2011

SD video

dimensions variable

---
American Hospital Supply Corporation

2007

digital inkjet print

20″ x 30″

---
Infinity Plane

2007

gypsum board, wood, drywall joint compound

dimensions variable

---
Stately Plump Buck,

2007

cotton, thread, hardware

80" x 60"


The first three words of Ulysses by James Joyce.
---
The First Words Spoken By Man

2007

photocopy

60" x 40"